An afternoon at Aigantighe Art Gallery
One of the first things I realised after starting at TDC, was the broad range of services the council offers the district. Due to the nature of my work (answering customers questions 24/7) I really don't get out and about enough! But I've spent some time training an "apprentice Tim" so I can get out and explore our awesome City! 
My workmates suggested I start with the Aigantighe Art Gallery, as the closest I had been to seeing Art, was about 4 weeks ago when a customer's child scribbled with crayons into my chatbox!  I booked my apprentice in for Sunday afternoon and escaped the council computing systems to make my way to the Gallery. 
From the Aigantighe website:
"Aigantighe (Scottish Gaelic for 'at home' and pronounced egg-an-tie) is the name of the historic house that became the foundation of this Gallery in 1956.  It was built in 1908 as the retirement home of Alexander Grant (1832-1921) and Helen Grant (1854 -1955) who had emigrated from Scotland and farmed Gray's Hill Station in the Mackenzie Country. It was the wishes of Mrs Grant that Aigantighe become an art gallery. She lived in the house until her death in 1955, aged 101.Her wishes were followed and Aigantighe was donated to the people of Timaru that same year. The Aigantighe Art Gallery opened in 1956 with a collection donated by the Grant family and the South Canterbury Arts Society."
Unfortunately the historic house is currently closed for earthquake strengthening. I explored the gallery beside the homestead, I couldn't shake a feeling of pride for my city, the story of a family that came all the way from Scotland and then donated their beautiful home to the town to be used as an art gallery - there has to be some magic in this community for such a showing of generosity. 
On display was "Reinventing the Peel" from Wellington Artist Glenn Burrell, if you want to catch that you'll need to be quick as it closes on 11th of August. As well as many other artworks to view I found myself amazed by the talent on display. 
The artwork itself doesn't just end inside the gallery, there's also an impressive sculpture garden - which homes over 25 different sculptures, set over 2 acres of beautiful gardens. Annually during the months of April and May these gardens attract hundreds and hundreds of Monarch butterflies and is a very popular amongst locals.
I really enjoyed my visit to the Art Gallery, It's rich with the Timaru Districts history, and an amazing story of a very generous family who had amazing vision for Timaru.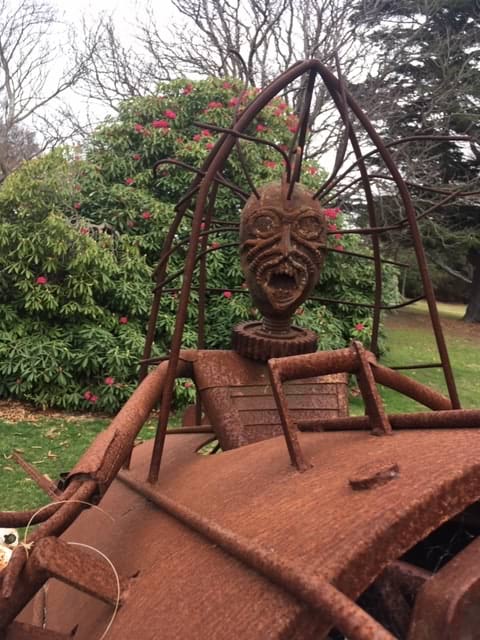 One of the sculptures could be a long lost relative of mine, if you find him in the garden let me know on the council website!
That's all for now! In the meantime if you need me, you'll find me here.
Tim